ZientziaKutxa 2023. Rojo vivo. Gorri bizia. Red hot.
New edition of ZientziaKutxa conferences organized by DIPC and Kutxa Fundazioa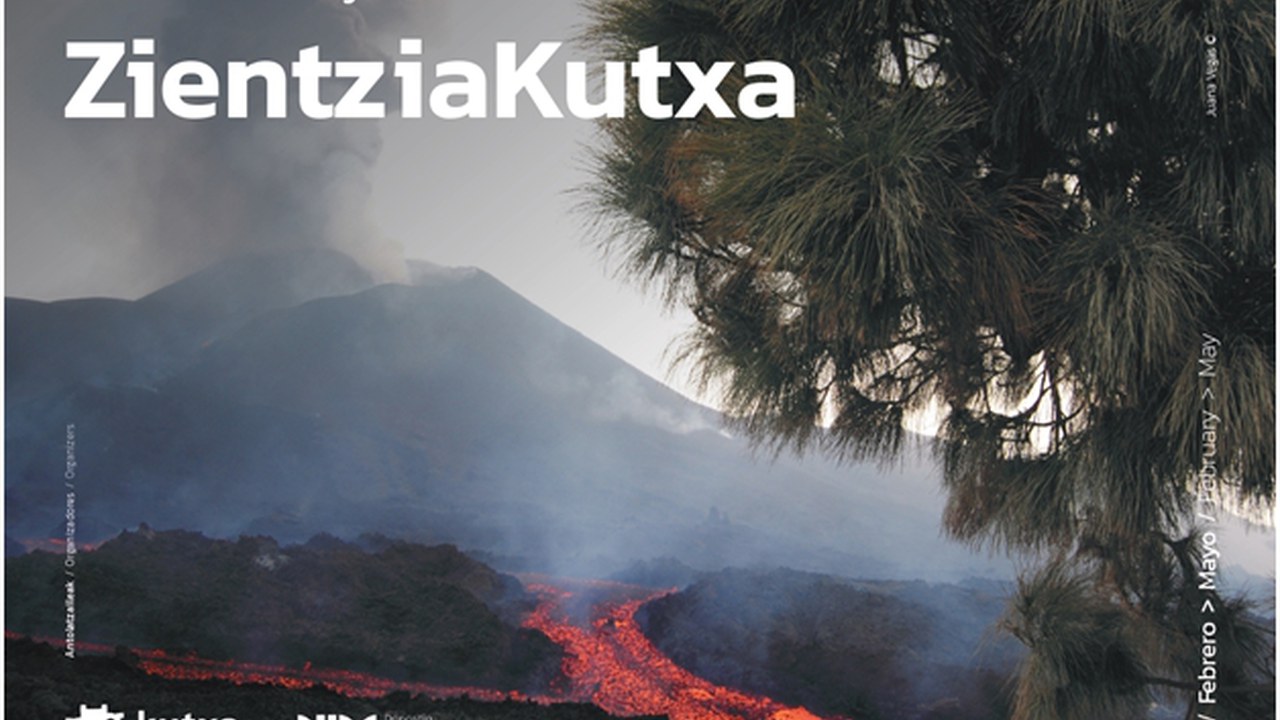 Kutxa Fundazioa and Donostia International Physics Center (DIPC) are once again programming the ZientziaKutxa conference cycle. Prestigious scientists, that also turn out to be great communicators, will meet at the Kutxa Fundazioa Ruiz Balerdi Hall (4th floor of Tabakalera) to offer public lectures on hot scientific topics of social interest. The lectures, offered in Spanish and Basque, are free of charge, no registration is required and they are open to all citizens. The conferences will be broadcast via streaming through Kutxa Fundazioa channel on YouTube (tiny.cc/Zientziakutxa).
The red color, in its most intense and evocative forms, acquires a notable presence in this new Zientziakutxa cycle, hence the name "Hot Red" for this year. This color produces a remarkable neuronal activation, an effect that is expressed in different elements of nature and areas of scientific knowledge. For example, the hypnotic color of lava from erupting volcanoes that captivates geologists, hides the presence of iron in its oxidized state. And it was after the explosion of the Tambora volcano, and that "year without a summer", that Polidori, Byron`s personal doctor, came up with the idea of the vampire, a character who has fed on all the mystique surrounding another icon of red, the blood. This color is also associated with global warming and possible scenarios around climate change, inviting to debate on the sustainability of life on our planet.
The first appointment will be this Friday, February 24, with Juana Vegas, geologist and coordinator of the Heritage and Geodiversity research team at the Geological and Mining Institute of Spain (IGME-CSIC), who will offer the talk "Volcanoes that change life". Vegas has participated in the emergency after the eruption of the volcano on La Palma island (2021), and is currently involved in the recovery phase with various research projects. Her talk will be in Spanish and will focus on showing the importance of coexisting with active volcanoes, understanding their processes and timing for the economic and social recovery of volcanic territories in the 21st century.
On March 10, he will be followed by the neurobiologist José Ramón Alonso, professor at the University of Salamanca and principal investigator at the Institute of Neurosciences of Castilla y León, who will offer the talk "Interview with the vampire on neuroscience". If we could talk to a vampire, it would probably talk to us about issues related to our brain: the desire for immortality, the mixture of attraction and repulsion towards what is different, anxiety about illness, seduction and love or what we call the power of blood. Alonso is a prolific scientific communicator with more than 50 published books. His blog on neuroscience (jralonso.es) receives millions of visits per year, being a reference on topics such as depression or autism for the Spanish-speaking community.
On May 12 it will be the turn of Elisa Sainz Murieta, professor at the UPV/EHU and researcher at the BC3 Basque Center For Climate Change, who will give the talk "Klima-aldaketa: guztioi dagokigun larrialdia?" Since times before the industrial revolution, we have emitted large amounts of greenhouse gases into the atmosphere, which is causing the increase in global temperature or the rise in sea level. In turn, these changes produce social, economic and environmental impacts. But, is climate change an emergency that concerns us all? The objective of this conference will be to answer this question from the scientific point of view. To do this, the origin of the problem and the changes that have occurred up to now will be analyzed, the future scenarios will be combined and some alternatives to the impacts will be presented.
Conferences at Kutxa Fundazioa Ruiz Balerdi Hall (4th floor of Tabakalera):
February 24, 18:00h
Volcanoes that change life
Juana Vegas, geologist
Geological and Mining Institute of Spain (IGME-CSIC), Heritage and Geodiversity, IUGS.
Language: Spanish
March 10, 18:00h
Interview with the vampire on neuroscience
José Ramón Alonso, neurobiologist
University of Salamanca. Institute of Neurosciences of Castilla y León.
Language: Spanish
May 12, 18:00h
Klima-aldaketa: guztioi dagokigun larrialdia?
Elisa Sainz de Murieta, geologist
University of the Basque Country (UPV/EHU). BC3 Basque Centre For Climate Change.
Language: Euskera
Access to lectures:
The lectures are free of charge and no registration is required.
They will also be broadcast on live streaming at tiny.cc/Zientziakutxa