Euclid telescope first images: the sharpest view of the dark Universe
ESA's Euclid space telescope releases its first full-colour images, the sharpest ever obtained across such a large patch of the sky and looking that far into the distant Universe. The mission, in which scientists from the DIPC are participating, will create the largest and most accurate 3D map of the universe to study dark matter and dark energy, that make up 95% of the cosmos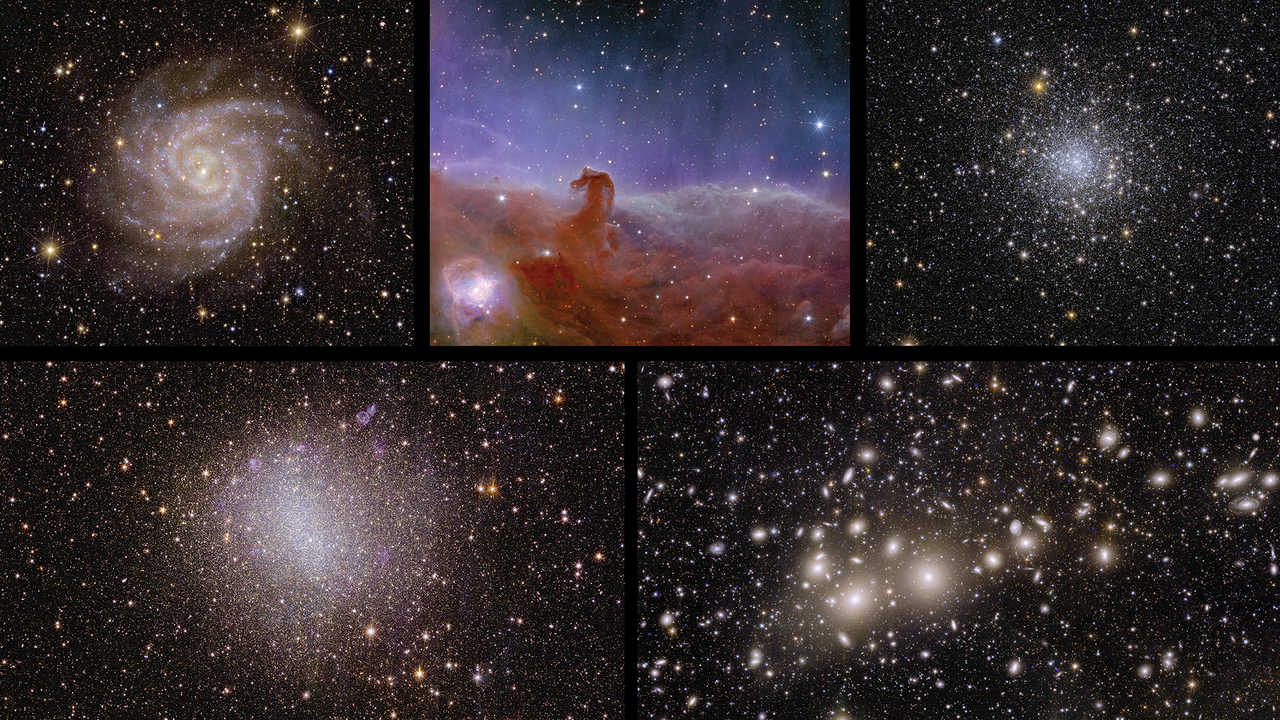 ESA's Euclid space mission, launched on July 1st to study the dark universe, finally reveals its first full-colour images of the cosmos. Never before has a telescope been able to create such razor-sharp astronomical images across such a large patch of the sky, and looking so far into the distant Universe, up to 10 billion light years away. These five images illustrate Euclid's potential and show that the telescope is ready to create the most extensive 3D map of the Universe yet.
The mission, in which scientists from the Donostia International Physics Center are participating, aims at investigating dark matter and dark energy, that make up 95% of our cosmos. Its nature has not been unravelled yet, because their presence causes only very subtle changes in the appearance and motions of stars and galaxies. To reveal the influence of dark matter and dark energy on the visible Universe, over the next six years Euclid will observe the shapes, distances and motions of billions of galaxies out to 10 billion light-years away. By doing this, it will create the largest cosmic 3D map ever made.
What makes Euclid's view of the cosmos special is its ability to create a remarkably sharp visible and infrared image across a huge part of the sky in just one sitting. For this, the Spanish contribution has been essential, with institutions designing and building parts of the scientific instruments on board of Euclid. "It is extraordinarily pleasing and rewarding to see these beautiful images taken with an instrument that we have built over so many years. It is amazing to realise that something that you have built is far away in space and is able to reveal the universe in such detail. We are looking forward to the science discoveries to come", says Francisco Castander, member of the Euclid Consortium and researcher from the Institute of Space Sciences (ICE-CSIC) and the Institute of Space Studies of Catalonia (IEEC).
The images released today showcase this special capacity: from bright stars to faint galaxies, the observations show the entirety of these celestial objects, while remaining extremely sharp, even when zooming in on distant galaxies. "I wish to congratulate and thank everyone involved with making this ambitious mission a reality, which is a reflection of European excellence and international collaboration. The first images captured by Euclid are awe-inspiring and remind us of why it is essential that we go to space to learn more about the mysteries of the Universe," says ESA Director General Josef Aschbacher.
These images will also be an invaluable source to understand better how galaxies form and evolve across the history of our Universe. "In a single image we can see thousands of galaxies with exquisite detail. With them, we can test various ideas of how stars and black holes interacted over billions of years", says Silvia Bonoli, a researcher at DIPC who studies the diversity of galaxies in the cosmos.
DIPC researcher and member of the Euclid consortium Raul Angulo adds: "Dark Energy and Dark Matter are some of the biggest puzzles in modern physics, and it's exciting to think that we are one step closer to understanding their nature, thanks to the high-quality pictures Euclid is providing". DICP researchers are now working to provide theoretical models with which to interpret the very detailed map of the Universe to be revealed by Euclid.
All the images released by ESA's Euclid space mission are available here.
Zoom into the Universe through Euclid's eyes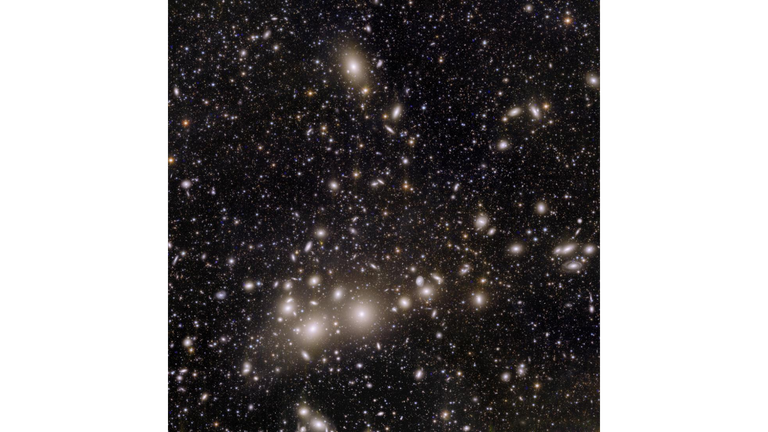 The Perseus cluster of galaxies. Credits: ESA/Euclid/Euclid Consortium/NASA, image processing by J.-C. Cuillandre (CEA Paris-Saclay), G. Anselmi; CC BY-SA 3.0 IGO.
This incredible snapshot of the Perseus cluster of galaxies obtained by Euclid is a revolution for astronomy. The image shows 1,000 galaxies belonging to the Perseus Cluster, and more than 100,000 additional galaxies further away in the background.
Many of these faint galaxies were previously unseen. Some of them are so distant that their light has taken 10 billion years to reach us. By mapping the distribution and shapes of these galaxies, cosmologists will be able to find out more about how dark matter shaped the Universe that we see today.