The sixth edition of Cinema and Science vindicates the love of science
Scientists of international prestige will debate with the public in the screenings that will take place from January to March in Donostia, Bilbao, Vitoria-Gasteiz, Pamplona and San Juan de Luz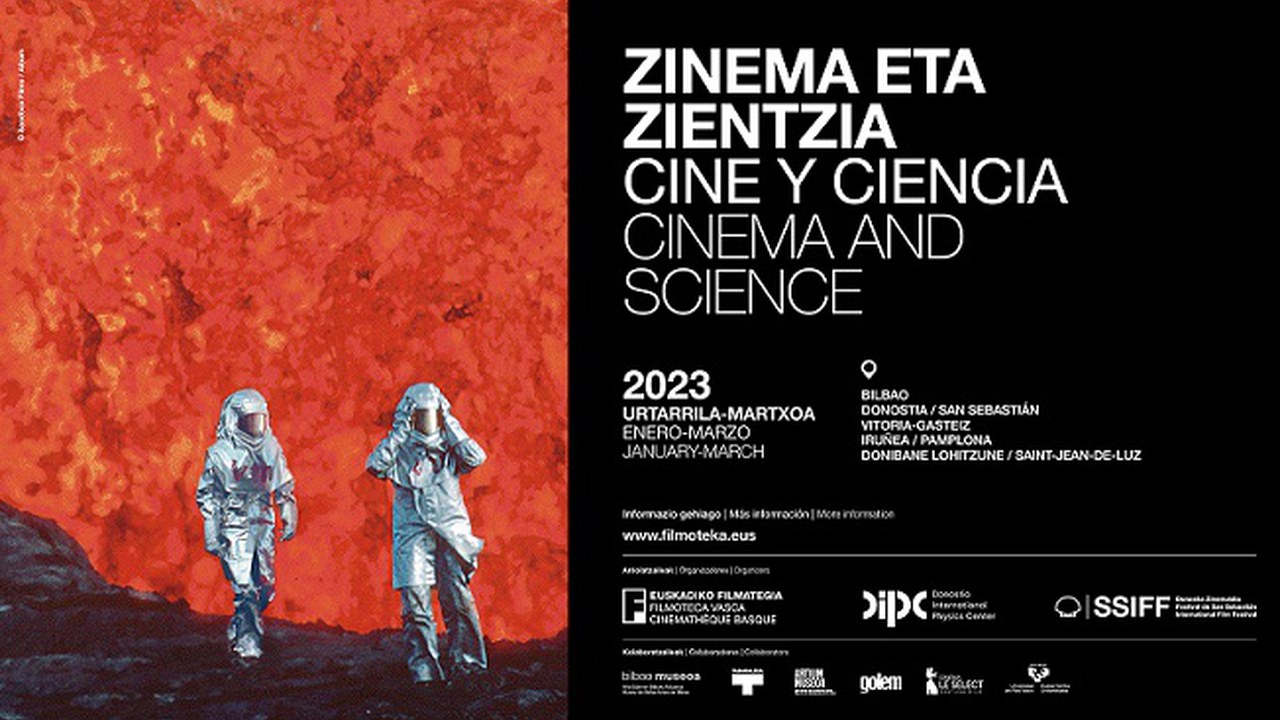 The sixth edition of the Cinema and Science cycle vindicates the love for science through ten films that will be screened from this Thursday until the end of March. In collaboration with the Donostia International Physics Center (DIPC) and the San Sebastian Film Festival, the Basque Film Archive aims to continue transmitting cinematographic and scientific culture and, to this end, each screening will be attended by internationally renowned scientists. Tabakalera (Donostia), Bizkaia Aretoa-Sala Mitxelena of the UPV/EHU (Bilbao), Artium Museoa (Vitoria-Gasteiz), Cines Golem (Pamplona) and Le Sélect cinemas (San Juan de Luz) will host the screenings that make up this cycle.

FILMS
The Cinema and Science series will screen Fire of Love (Sara Dosa, 2022), a documentary about the experiences of two French volcanologists united by their love for each other and for volcanoes. The love of science and her family also stars in Madame Curie (Mervyn LeRoy, 1943), a film that delves into the research years of the two-time Polish Nobel laureate. Bram Stoker`s Dracula (Francis F. Coppola, 1992) depicts the myth of the vampire who travels through time in search of an impossible love. The program is also completed with classics such as The Name of the Rose (Jean-Jacques Annaud, 1986) and Inherit the Wind (Stanley Kramer, 1960), proposals that show how their protagonists act moved by the love of truth. Free love as a right is defended by Tom Hanks in Philadelphia (Jonathan Demme, 1993), and a colonel`s love for "American bodily fluids" ends in nuclear disaster in Dr. Strangelove: How I learned to stop worrying and love the bomb (Stanley Kubrick, 1967).
The scientist and Nobel Prize winner John Nash and his obsessive love for mathematics inspired the film A Beautiful Mind (Ron Howard, 2001) and nostalgia for what was lost is also the protagonist of one of the great dystopias of cinema: Soylent Green (Richard Fleyscher, 1973). Finally, the cycle will end with an ode to the animal, the wild and the monstrous: Jaws (Steven Spielberg, 1975). The films will be screened in their original version with subtitles in Spanish or Basque.
The program will be screened in its entirety in Donostia, Bilbao, Vitoria-Gasteiz and Pamplona, while in San Juan de Luz we will be able to enjoy Docteur folamour, Un homme d`exception and Les dents de la mer.

The presentations and colloquiums will be given by the neurobiologist José Ramón Alonso (University of Salamanca); the doctors Carmen Garde (Biodonostia, University Hospital of Donostia), Julio Arrizabalaga (Biodonostia, University Hospital of Donostia); physicists María Blanco (UPV/EHU, DIPC), Igor Campillo (Euskampus Fundazioa), Ricardo Díez Muiño (DIPC, CSIC, UPV/EHU), Pedro Miguel Etxenike (DIPC, UPV/EHU), Mercedes Vila (Biotech Foods), Nerea Zabala (UPV/EHU, DIPC), Daniel Zerzion (DIPC, CERN) and Amaia Arregi (DIPC); mathematician-physicist Jean-Bernard Bru (UPV/EHU, BCAM); mathematicians Paula Gordaliza (BCAM, UPNA) and José Antonio Lozano (BCAM, UPV/EHU); biologists Montse Hervella (UPV/EHU), Conchi de la Rúa (UPV/EHU) and Juan Ignacio Pérez Iglesias (DIPC, UPV/EHU); geologists Janire Prudencio (University of Granada), Juana Vegas (IGME-CSIC) and Asier Hilario (Euskal Kostaldeko UNESCO Geoparkea); chemists Elisa Jimenez-Izal (DIPC, UPV/EHU) and Fernando Cossio (UPV/EHU, Ikerbasque); and environmental engineer Marta Olazabal (BC3, Ikerbasque).

Tickets can be purchased on the websites and at the ticket offices of Tabakalera, the Artium Museum, the Bilbao Fine Arts Museum (the sessions are moved to Bizkaia Aretoa due to the works at the museum) and the Le Sélect and Golem-Baiona cinemas. The price of each ticket is between 3.50 and 6 euros (not including discounts). All information at www.filmoteka.eus.
Check the PROGRAM