Childhood and Teenage Years
Texts by Dr. Antonio Moreno González
Albert Einstein was born on 14 March 1879, at 11:30, in the Swavian town of Ulm, in southern Germany, on the banks of the Danube. His birthplace, number 135, Bahnhofstrasse, was razed to the ground during World War II. He was the eldest son of a Jewish couple, Hermann and Pauline (neé Koch). According to his maternal grandmother, Tette Koch, he was born too fat, with a swollen and slightly deformed head.
When he was barely a year old, his family moved to Munich seeking their fortune from the electrochemical industry in which his father and uncle, Jakob, had been working for some years. The city had begun a massive transformation from gas lighting to electricity and thought this was a good chance to make their fortune.
At primary school, Albert received a Catholic schooling; the Jewish education that the government demanded for people of his condition had to be acquired at home, even though his parents were agnostic. In those first years, Einstein showed an unusual interest in the existence of God, which even caused his family some concern. However, that initial passion soon waned as he began to take an interest in books on science and philosophy. Nonetheless, he was to continue turning over the idea of God - "Spinoza's God" - and once even said that his scientific aspiration was to "know the thoughts of God".
After the family business again failed, the Einsteins moved to Italy, where they set up a factory manufacturing electrochemical material in Pavia. Albert, who was 15, was supposed to stay behind in Munich to finish secondary school and do his military service. He did neither. As well as being incapable of enduring the Prussian inflexibility of the school, he wanted to avoid joining the army and so he joined his parents in Italy, causing them to worry about his future. He did not stay long in the family home, but he always looked back fondly on those months. As a result of his readings he wrote his first essay: On the Investigation of the State of Ether in a Magnetic Field, a foretaste of the work that in years to come was to mark him out as a great scientist.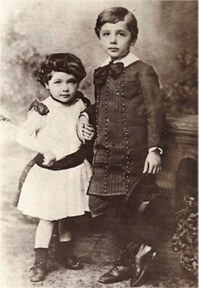 With his sister Maja (1881 - 1951)
---