Actividad pasada
nanoKOMIK
The nanofiction comics and all the information about the project can be found on their website:
A science outreach initiative that has resulted in the first participatory nanofiction comic.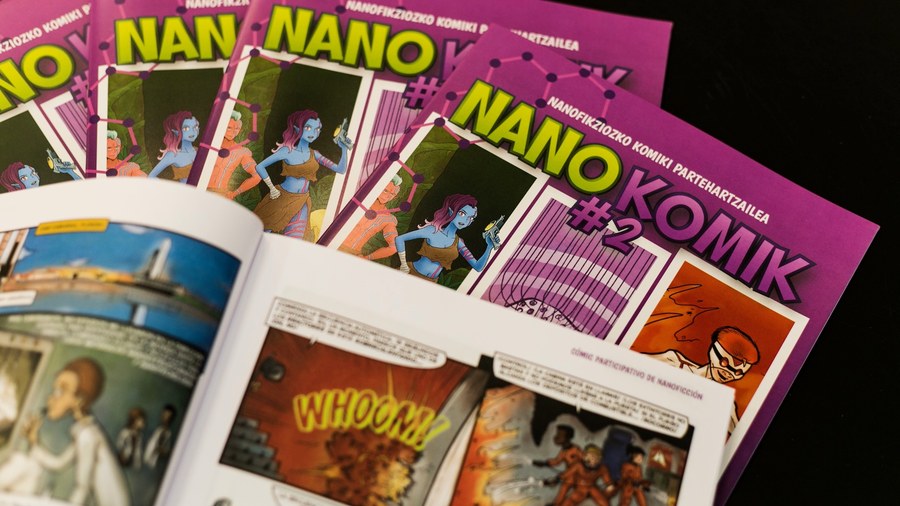 The scientific breakthroughs of the last century have turned nanoscience into a reality. Thanks to quantum mechanics, we understand the properties and phenomena that emerge from matter at the nanoscale and large microscopes manipulate atoms one by one. The possibilities opened up by this new field of science are endless and will have great repercussions in sectors ranging from medicine to construction, generating improvements in our lifestyles.
Aware of this reality, the CIC nanoGUNE and Donostia International Physics Center (DIPC) research centres have launched the nanoKOMIK project, which has resulted in the first participatory nanofiction comic. This is a participatory, multidisciplinary and international initiative to disseminate science, which seeks to inform society about the advances made in the field of nanoscience and nanotechnology, while at the same time awakening the creativity of the youngest members of society.
The result of the nanoKOMIK project has been twofold. The first, the more than 170 works in Basque, Spanish, French and English submitted to the two editions of the nanoKOMIK challenge. In them, the participants have given life to their own comic book superheroine or superhero, endowing him or her with nanopowers thanks to the surprising properties that matter acquires using nanotechnology.
The second, the Dayanne and Murillo comics: The Power of Nanoscience and Nanokomik#2. These stories have been created based on the best ideas from the comics submitted to the challenge. In addition, the travelling exhibition of these collective comics has visited several cities in the Basque Country, Spain and France.
The multilingual project has been developed entirely in Basque, Spanish, French and English. Recently, the comics have also been translated into Korean.
nanoKOMIK is co-funded by the Spanish Foundation for Science and Technology - Ministry of Economy, Industry and Competitiveness.
The nanofiction comics and all the information about the project can be found on their website: