Science Week organized by the University of the Basque Country / Euskal Herriko Unibertsitatea (UPV/EHU). .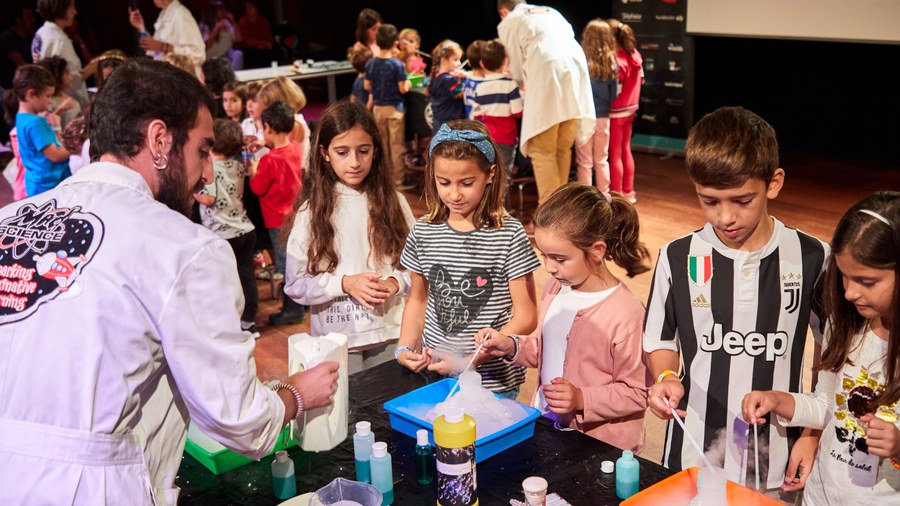 Every year, the DIPC takes part with CIC nanoGUNE and the Centre for Materials Physics (CFM CSIC-UPV/EHU) in the Science Week organised by the University of the Basque Country / Euskal Herriko Unibertsitatea (UPV/EHU).
Professionals from the three centres, including PhD students, post-doctoral researchers and science communicators, participate on a voluntary basis at the Exploring the World of Materials stand open to the public.
In this installation, a series of demonstrations and experiments illustrate the scientific universe surrounding the development of new materials related to research in fields such as nanoscience, polymer engineering and physics.
To arouse visitors' curiosity, we display intelligent materials with optical, mechanical, surface and electronic properties that our intuition fails to grasp. Superhydrophobic sand, shape memory alloys, water-invisible polymers and iridescent materials are just some of them. Today, many of these properties are studied and developed in laboratories but, oddly enough, they are closely linked to nature.
In recent decades, new electron and atomic microscopes have brought us closer to the tiniest world, enabling us to see that nature is full of nanostructures that fulfil a variety of functions. Chameleons' camouflage, geckos' sticking power or butterflies' subtle communication system originate from sophisticated nanotechnological systems that have been perfected over millions of years. Science is inspired by this delicate perfection.
In addition, as part of the Science Week programme, scientists from our centres take part in "Zientzia Kluba", a show featuring scientific monologues intended for all audiences, which is held in different towns and cities and addresses a wide range of scientific topics.